More than just ensuring a smooth, comfortable ride, your vehicle's suspension system is responsible for good handling, fuel economy and even safety. Problems lurking in your undercarriage need to be resolved immediately with knowledgeable suspension service in St. Louis, MO. Hayes Engine Management is ready to tackle the job.
Our suspension repair capabilities include every vital piece of your system and we have the expertise to properly evaluate and diagnose problems. We don't just guess—using state-of-the-art equipment and decades of experience, we get to the root of a suspension problem to make sure it's remedied right.
Suspension Repairs
There are many individual parts affiliated with your suspension system, each playing an important role in drivability. Our approach to suspension repair in St. Louis, MO spans every individual part and component, making sure each is doing its job to keep your car rolling along smoothly.
We can identify compromised parts, replace them and make sure different areas of your system are working as they should be. Our expertise spans everything from simple shock and strut replacements to service for damaged rack pinions and control joints.
Shocks
Struts
Control Joints
Tie Rod Ends
Wheel Bearings
Rack & Pinion
If you're having issues with vibration or rocking, or notice problems when it comes to handling and turning, there's likely a problem with your suspension system. Let us take a look and set things right, regardless of what the issue may be.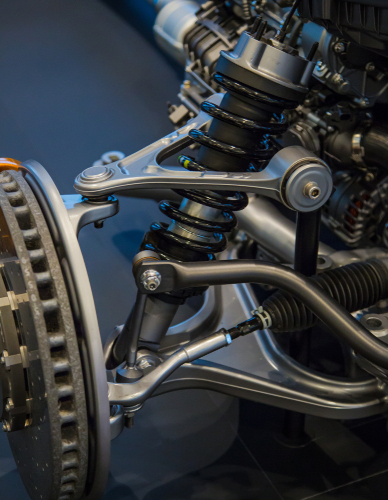 Enjoy a Smoother Ride
If it feels like you're on a rollercoaster each time your vehicle hit the road or you feel a rattling and rumbling that just won't go away, it's time to get your suspension looked at. Hayes Engine Management has all of the equipment and expertise to restore the smoothness of your ride. Give us a call today at 314-371-1295 and we'll make sure your shocks, struts, joints and bearings get the attention they need.