Your car's brakes are its biggest safety feature and need to stay in top working condition to keep you safe. If you're driving around with old, deteriorated brakes, warped calipers or a leak in your brake line, don't waste any time in finding a brake shop in St. Louis, MO! Hayes Engine Management is here to help and will make sure your vehicle gets the complete brake repairs it needs to keep you safe.
Brake Replacement
Brake replacements and general brake service in St. Louis, MO is a routine part of vehicle maintenance. If you start to notice a loss of stopping power when you hit the brakes or can hear high-pitched squealing each time you roll to a stop, it's time to get your brakes worked on.
We can replace your pads and shoes to restore the effectiveness of your brakes, and can even offer upgrades to high-performance replacements if you tend to be a little heavy on the brakes. Our goal is always to ensure your car's biggest safety feature is working properly, so you can stop on a dime when the time calls for it.
Brake Repair
Often, brake service goes beyond just replacing pads and shoes. Heavy wear on brakes can necessitate brake repair in St. Louis, MO—fixing rotors, calipers and other parts of your braking system. We inspect these systems to make sure nothing is out of place and that your brakes will continue to work as you need them to. From mushy brake pedals to slipping brakes, we address any and all issues.
Brake rotors
Brake pads
Brake pedals
Leak repair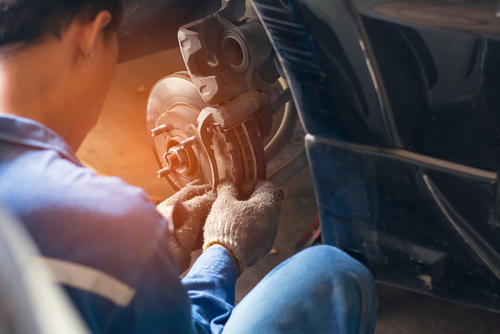 Get Your Brakes Done
Address squeaking, squealing or stuttering brakes right away and make sure you're getting brake services from the area's top professionals! Schedule your appointment with Hayes Engine Management today by calling 314-371-1295 and let us make sure you drive away with brakes that are prepared to stop on a dime.